The clients of Accounts Studio will also be able to exchange EDI documents quickly and easily as of September. Account Studio is now the 34th Certified Partner of Telema, which means that its clients can exchange EDI documents in the Telema network with more than 4,000 shops and 1,000 suppliers.
According to member of the management board of Account Studio Eero Käärik, offering its clients a stable complete solution is important to the company. "Account Studio has been on the market for more than 20 years," he said. "Every day, we make sure that the business processes of our customers run impeccably. The clients of our AccountStudio business software and our company as an accounting service provider will both win from the implementation of the Telema EDI solution. Automated sales and settlements will leave us more time for doing our principal work."
Telema EDI Module users of Account Studio can exchange electronic orders, invoices, delivery notes, acceptance confirmations and return notices in the Telema network. Activating the EDI Module in the AccountStudio business software will take up to five business days.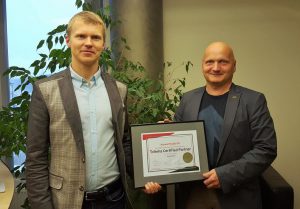 Project Manager at Telema Raul Silde (left) and member of the management board of Account Studio Eero Käärik (right)